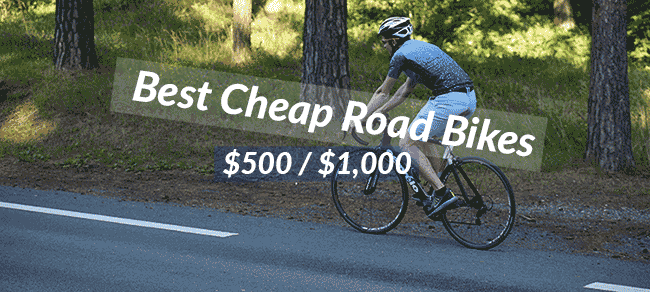 Do you want to get into road cycling but don't have a proper bike? Well, don't worry, we've made a list of the cheap road bikes in 2020 just for you!
These bikes are meant for you if you plan to start cycling or you've already begun to recently. We've categorized them according to their prices, so you can easily find the one that suits you best.
Why should you buy online? We believe that it is a crucial step to saving an extra penny when buying road bikes.
At local bike shops, you might be able to find a road bike for beginners that will cost you around $800 -1,600.
These are nice bikes, but we believe we managed to get an even better price for the same value, which you can see in our review below.
Let's check it out!
Number of gears: 24  |   Brakes: V-Brakes    |   Price: $599.99
Features: Three colors, full aluminum frame and fork, Shimano Claris components, 24 gears, rim brakes, 25 mm tires…
Tommaso Imola is the most road bike you will get for $649, and it seems that most people understand this. It is one of the best sold cheap road bikes in this price range. It's available in three attractive colors: black, white, and orange. Thus, anyone can find the look that perfectly fits their style.
Off to more important aspects, Tommaso Imola is a full-aluminum cheap road bike that weighs just 23 lbs. This is perfect for riders who are beginners and want to have a reliable and efficient ride. Moreover, it features a frame with compact geometry, which ensures you will feel comfortable even on the very long rides.
When it comes to components, the Tommaso Imola is equipped with Shimano Claris R2000 parts. This is a common choice on many budget road bikes. In total, it has 24 speeds, with a standard 11-28t cassette on the back. Shimano Claris is an entry-level groupset, but it has proven as a reliable choice preferred by many new riders.
As is the case with most road bikes, Tommaso Imola comes with Shimano Claris brake calipers. Disc brakes are becoming more and more popular on road bikes, even some pro riders have started using them. But, most riders still prefer v-brakes when it comes to road bikes.
The wheelset is the famous Tommaso's TC-20, with a 23 mm rim, that we can see on a lot of Tommasso road bikes. They chose to wrap it with Kenda's 25 mm wide tires, which is a great fit. It is the preferred width of many experienced riders today, who are more and more often opting for the comfort that wider tires provide.
When buying this bike, you can choose between the Ready to Ride build and No Build. This might save you an additional $50 off the price.
Finally, Tommaso Imola is the best cheap road bike that you can get out there. It combines reliability with elegant Italian design, which is everything you could ask for. Don't hesitate to buy it if you are a beginner rider and you are starting to fall in love with road biking.
Positives:
Lightweight aluminum frame and fork
Modern & attractive colors
Weighs 23 lbs
Ready to Ride build available
Negatives:
Low-end Tommaso wheels & tires
Number of gears: 18 |   Brakes: Mechanical Disc Brakes   |   MSRP: $1,000
Features: Aluminum frame, retro look, Shimano Sora components, 18 gears, mechanical disc brakes…
If you do not have a lot of money to spend on a road bike, but you want reliability and attractive design, Diamondback has plenty of models for you. The Diamondback Century 2 is one of the best cheap road bikes by this American manufacturer for a lot of reasons. Let's see what they are.
First of all, it's built from custom fully butted 7005 series alloy. It is known to be very durable and weighs less than other popular alloys. If you like the retro look, you will love the old-fashioned dark green paint job as well. It's the perfect fit for rides in nature.
Now, even though Diamondback Century 2 is categorized as an entry-level road bike, it comes with full Shimano Sora components. This groupset is intended for recreational skill level, so you already get more than you can expect from most cheap road bikes.
The drivetrain is a 2×9, which resembles what we can see on mid-level road bikes. Entry-level models usually have a 3x crank. Another nice surprise that you'll get is mechanical disc brakes. Some riders prefer V-brakes on road bikes, but the newest research shows that disc brakes are one of the trends expected to gain popularity this year. The brake levers are Shimano Sora, so even though you need more power to engage mechanical disc brakes, braking should feel smooth.
Diamondback Century 2 wheels and tires are built by Diamondback in-house. This is usually a big plus, as it ensures the best compatibility. The rims are doublewall Diamondback Equation, and the tires are 700×28. Thanks to the wider tires, the Century 2 offers more versatility and allows you to hit some rougher and bumpier roads as well.
All in all, I feel that the Diamondback Century 2 is a bargain considering what you get for the money. If you wish to spend well under $1,000 on your first road bicycle and ride both recreationally and for fitness, you can't go wrong with this choice.
Positives:
Lightweight frame and fork
Beautiful retro design
Quality Shimano Sora components
Versatile 2x9 drivetrain
Negatives:
Mechanical disc brakes
Uncomfortable saddle
Number of gears: 21 |   Brakes: V-Brakes   |   MSRP: $450
Features: Aluminum frame, upright geometry, chromoly fork, Shimano Tourney derailleurs, 21 gears, V-brakes…
Is your main criterium when buying a road bike to spend as little money as possible? If that is the case, they do not come much cheaper than Raleigh Cadent 1. You can get this bike online for $300, which is a bargain, as you get enough bike for your daily commutes.
Since this is a very cheap road bike, you should have your expectations low. But, there are still a couple of surprises that should not be overlooked. One of these is the 6061 aluminum custom formed frame, with a rounded top tube and comfortable geometry. It is coupled with a Cro-mo Canti Road fork, which is quite comfortable and has enough clearance to add wider tires. Thanks to all of that, the Raleigh Cadent 1 weighs just 26 lbs.
The derailleurs and the shifters are low-end Shimano Tourney, providing you with 21 speeds in total. Even though that's less than some other bikes on this list, it is enough to tackle most terrains. Most road bikes today have sufficient gearing, so it's not something you need to worry about. Plus, Shimano Tourney is not a hi-tech groupset, but it does what it is designed to do.
One surprising thing is that Raleigh Cadence 1 does not have drop bars but flat handlebars. This might not be the preference of some riders when it comes to road bikes, but you can easily switch to drop bars later on. You save so much money on this bike that it should not be a problem.
As you might expect, Raleigh Cadence 1 has v-brakes, just as most other budget road bikes. However, they offer enough stopping power for day-to-day city commuting. Moreover, the tires are 35 mm wide, which is excellent for city asphalt which is often much less than perfect.
When we look at the grand picture, we love this bike. It has some disadvantages, but it's perfect if you're just looking for a simple way to commute on a daily basis, get healthier, and save money on gas. It has rack and fender mounts as well, so you can ride it in the rain and add bike bags as well.
Positives:
Elegant all-black color
Lightweight aluminum frame
Enough clearance for wider tires
Very affordable price
Negatives:
Shimano Tourney derailleurs
Rim brakes
Number of gears: 21 |   Brakes: V-Brakes   |   MSRP: N/A
Features: 6061 aluminum frame, Shimano components, V-brakes, 28 mm wide tires, three colors…
Merax Finiss is the cheapest road bike on this list, but that does not make it the worst. It's made for those who do not have or do not want to spend too much money on a bicycle, but still want to get all of the main benefits of road biking.
Moreover, it's available in three colors, which is not something you often get with such cheap road bikes. You can choose from Yellow and Grey, Green and Black, and White and Red. Our personal favorite is the White and Red combo because it looks expensive, but the other two are great as well.
When it comes to the components, you get what you are paying for. However, if you are buying this bike to ride recreationally, stay active, and enjoy the breeze in your hair, this setup will be more than sufficient to give you that.
Even at this price point, you will get a full 6061 aluminum frame which is strong, but not heavy. Therefore, Merax Finiss weighs around 28 lbs, which is not bad for a road bike that costs that little. Moreover, both the rear and the front derailleurs are produced by Shimano, even though they are low on the scale. They might require more frequent adjustments, but you shouldn't have any big problems if you tune them up well.
As you can expect, Merax Finiss does not have disc brakes. They are becoming cheaper and cheaper, however, so we hope that some future version will come with discs. Until then, we get a set of aluminum v-brakes. They usually provide more than enough stopping power for recreational rides. Just make sure to maintain them properly.
Since this bike is made for beginners, the tires are slightly wider than those on more professional bikes. Merax Finiss rolls on 28 mm wide tires, which provide comfort and stability. Therefore, they are perfect if you still do not feel 100% comfortable on thin tires.
We believe that Merax Finiss is one of the best cheap road bikes out there because it keeps things simple and gives you only what you need. It's great if you just want to spin the pedals on the weekend, be healthy, and have an excuse to spend some time outside.
Positives:
Great price
Three attractive paint jobs
Relatively lightweight
Comfortable 28 mm tires
Negatives:
Cheap V-brakes
Very tacky Shimano derailleurs
Number of gears: 24 |   Brakes: V-Brakes   |   MSRP: $699.99
Features: Aluminum frame, carbon fork, Shimano Claris components, 24 gears, V-brakes, TC-30 wheels, 25 mm tires…
Another Tommaso cheap road bike has made it on our list, with a good reason. This time it is Tommaso Forcella, a model that is slightly more expensive than Imola but gives you more in the form of components. Tommaso Forcella is intended for entry-level riders who are sick and tired of being beginners forever. It is the perfect model to allow you to transition from a beginner to a more experienced cyclist.
The high point of Tommaso Forcella is, without a doubt, its carbon fork combined with the lightweight aluminum frame. Therefore, Forcella weighs only around 22 lbs, which is much lower than any beginner mountain or cross bike that most riders start with. Moreover, carbon is the perfect material to smooth out road vibrations, so it is much more comfortable as well.
Tommaso Forcella is equipped with Shimano Claris R2000 components which have one of the best money to value ratios on the market. You'll have no problems whatsoever shifting through the 24 gears, even if you find yourself having to change gears uphill, under a lot of tension.
One thing we'd love to see on Tommaso Forcella are disc brakes. Originally it comes with v-brakes, but more and more cheap road bikes today have disc brakes, as they are becoming more affordable and more accessible.
Of course, when it comes to the wheelsets, Tommaso has opted for their TC-30 wheels, which are pretty light and responsive on the rides. The tires are 25 mm wide, which is a standard solution on most road bikes today.
So, what more to say but to encourage you to give Tommaso Forcella a try. It's the perfect bike for anyone who wants to start doing longer rides, go faster, and invest more in their health and fitness.
Positives:
Lightweight aluminum frame
Carbon fork
Quality Shimano Claris derailleurs
Wide range of gears
Negatives:
No disc brakes
Slow 3x8 drivetrain
Bonus: Best Cheap Road Bike For Women –
Number of gears: 16 |   Brakes: Mechanical Disc Brakes   |   MSRP: $673.93
Features: Aluminum frame, 16 gears, carbon fork, Shimano Claris components, mechanical disc brakes…
This list of the best cheap road bikes would not be complete without the best model for women. To fill in this important position, we've chosen to show you the Co-op Cycles ARD 1.1, which is one of the best-selling cheap women road bikes.
It has a breathtaking, clean black paint job, with turquoise details that really make the bike stand out on the road. The Co-op Cycles ARD 1.1 has a really affordable price, considering that it is built on a superb, lightweight aluminum frame with a one-piece carbon fork.
The drivetrain is 2×8, which is similar to the one seen on more serious and more expensive models. You can move through the 16 gears with Shimano Claris derailleurs, which have proven as a great entry-level option. These 16 gears are more than enough to get you anywhere, especially because the cassette is an 11-34t.
The best thing about the Co-op Cycles ARD 1.1 is that it has disc brakes. These are mechanical discs made by Promax, perfect if you plan on riding a lot of hills or riding in bad weather. In that case, changing flat tires is the last thing you want to be doing. The good news is that this bike has CST Recourse tires with puncture protection, so flats might become a thing of the past for you. The tire width is 28 mm, so you can ride even on harsh roads.
The Co-op Cycles ARD 1.1 is one of the best cheap women road bikes because it is lightweight, simple to maintain, and looks really nice. We recommend it if you want a practical road bike that can get a lot of miles under its wheels on a weekly basis.
Positives:
Beautiful color pattern
Attractive price range
Disc brakes
Carbon fork
Negatives:
Only 16 gears
Basic saddle
Best Alternative Cheap Road Bike
Number of gears: 18 |   Brakes:  Mechanical Disc Brakes  |   MSRP: $999
Features: Aluminum frame, upright geometry, Shimano Sora components, 18 gears, 37 mm tires, disc brakes…
Have you heard about the newest trend in road biking called gravel bikes? They are becoming more and more popular, so we've decided to include the best cheap road bike made for gravel. In our opinion, that's Diamondback Haanjo 3. It's amazing how many new doors a gravel bike opens. It gives you new riding possibilities that you didn't even think about before.
The Diamondback Haanjo 3 has a full aluminum frame with a relaxed endurance geometry in mind. Therefore, you can ride longer on gravel, dirt, and forest roads. It has a replaceable hanger for the derailleur, so even if you fall, you will save your Shimano parts.
When talking about the derailleurs, Diamondback opted for Shimano Sora this time. They are an entry-level solution, but they are better than Claris, which you can see on many other bikes in this price range. Therefore, shifting on a bumpy off-road hill will present no challenge. The number of gears is 18, which really resembles a true road bike.
Some of the things that make gravel bikes what they are are wide tires and disc brakes. Diamondback Haanjo 3 has both of them! The tires are 37 mm wide, offering more than enough grip, and you can stop this pretty bike by engaging the Tektro Lyra mechanical disc brakes.
If you have some gravel roads in your area that you have been tempted to ride on, the Diamondback Haanjo 3 is the perfect companion for those. Moreover, it will not stop you from riding fast on asphalt either, so it is hard to go wrong with this model.
Positives:
Lightweight aluminum frame
Capable wide tires
2x9 Drivetrain
Shimano Sora components
Negatives:
Mechanical disc brakes
Needs frequent adjustments if abused
How To Choose The Right Size?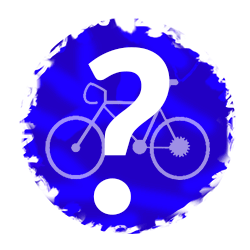 The best way to choose a good road bike size for you is to find out what your height is. 
Then, you can compare it to one of the charts available on the internet. Most bike manufacturers have their own charts as well. So, when you choose which bike you want to buy, make sure to consider their measures, as they could be manufacturer-specific.
However, this is just one of the many possible methods. We encourage you to take a look at our in-depth bike sizing guide. Here, we explain 7 different methods of choosing the right bike size.
You can use just one or combine several of them for an even more precise fit!
What Separates a Cheap Road Bike From a Cheaply Made Road Bike?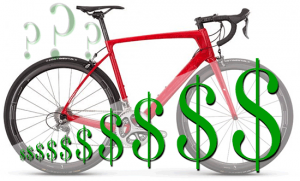 A cheap bike and a cheaply made bike are not the same!
A cheaply made bike has terrible components, often no-brand ones, and a lousy finish. Such bikes usually do not last long and often have a lot of mechanical or structural problems.
The bikes that we have included here are cheap, but they are still quality made. They are produced by reputable companies which put a lot of time and effort into finding the right balance between the price and components.
All of the best cheap road bikes that we have included on our list have Shimano or Sram components. They usually work well and last for a long time. The only way in which they differ from more expensive models are the materials used and the weight. Therefore, if you bought a cheap road bike, it does not have to mean that you bought a bad bike! It can make you happy for a long time!
Conclusions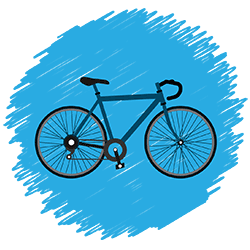 There you have it, we're shown you the seven best cheap road bikes you can buy in 2020.
Each of them is best suitable for a particular type of rider and a particular style of riding. For example, the Tommaso Imola is perfect if you want a practical road bike that looks good, which you can ride both on recreational and longer fitness rides. The Diamondback Century 2 is perfect for those who want a cheap road bike, but are willing to spend a little bit more money to get better components and care about the speed.
On the other hand, the Raleigh Cadent 1 and the Merax Finiss are made for riders whose main motivation is to save money. If you know that you won't go on very long and demanding rides, but you want a bike to ride casually on the weekend, you won't make a mistake if you buy one of these two models.
If you care about having carbon on your bike, either for performance or for bragging, you can get it for little money if you buy Tommaso Forcella. Women who are looking for the best cheap road bike suitable for their geometry do not need to look past the Co-op Cycles ARD 1.1W. This is also the best-looking bike on the list!
Finally, if you have an adventurous spirit and you like challenging yourself on gravel roads, we recommend you go for the Diamondback Haanjo 3. It's a utilitarian bicycle that does not take no for an answer.
Do We Suggest Buying Cheap Road Bikes?
Absolutely!
A cheap bike is better than not having a bike at all, right? A cheap road bike will get you outside into nature, help you lose weight, get fit, become healthier, and be happier. As we explained, a cheap bike is not the same as a cheaply made bike. If you take our advice and choose one of the best cheap road bikes we showed here, we're sure you'll be cycling happily for a long time.
Read Next